Build Your Own Box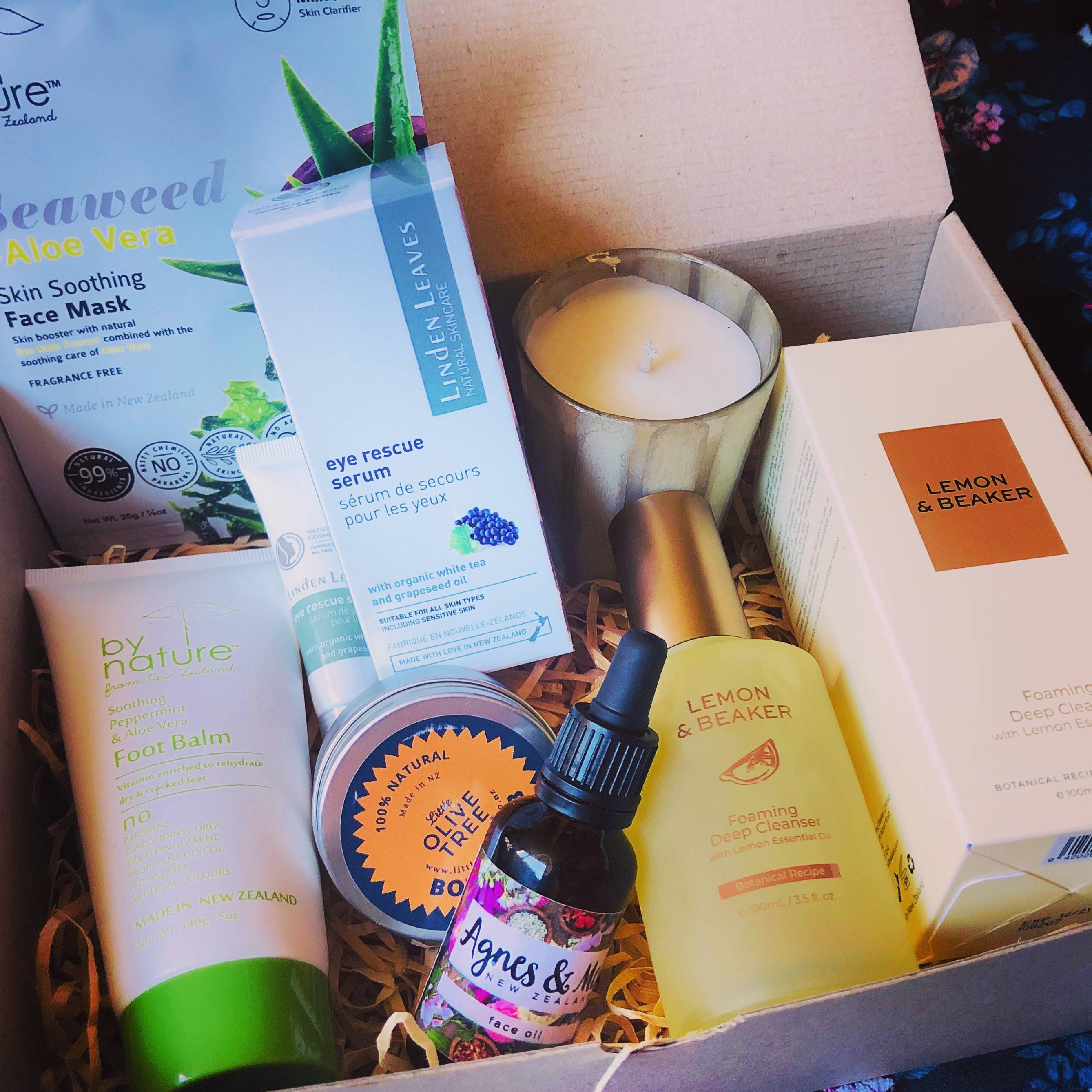 Here you will find exciting one off treats and amazing products. High quality, great brands, and the ability to choose your own treats inside your box for the most exciting delivery box possible. Perfectly suited to skincare enthusiasts, eco warriors, and deserving women everywhere, MyTreat boxes deliver a little bit more self-love and a whole lot of beautiful, natural skincare for you to enjoy. One off shop purchases are posted every week so you dont have to wait to the 25th of the month when our main subscription boxes are sen. Each of our one off products are available in very limited quantities so build your box below before these treats sell out...
International Shipping ● Dispatched weekly  ● Build your dream box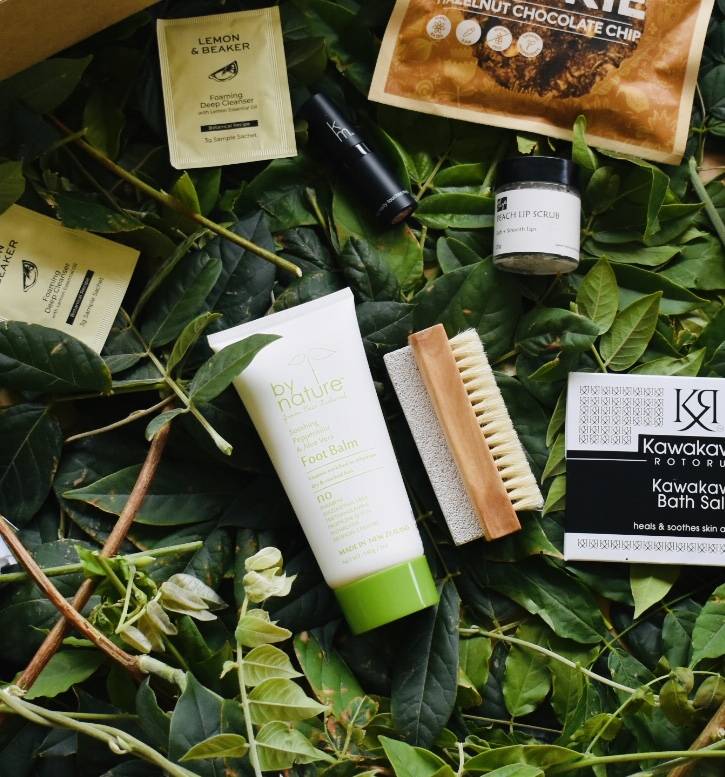 ---
An alcohol-free, vegan friendly, make-up setting, refreshing multi-tasker. Spritz yourself cool with all the goodness of aloe vera juice, coconut water, chia, cucumber and celery extracts. Made in New Zealand from no nasty chemicals, this toner contains no alcohol so it wont dry out your skin while balancing your natural oils.
MyTreat Subscribers are excitedly awaiting the May box, including the gorgeous natural skincare from Rata & Co. Each box includes the Probiotic Facial Oil & Day Cream, and we are very excited to have a limited quantity of the Rata & Co Eye Cream available through our one off shop. This effective eye cream has a special formulation of soothing Probiotic Milk Peptide & Omega Rich Plant Extracts combined with natural fruit antioxidants to target stressed and dull skin. Rich yet light, this intensive cream melts effortlessly into the skin – for radiant skin every day.
Why use Probiotic Skincare?
We all know that Probiotics are great for the inner workings of our bodies for balancing and calming, they are also very beneficial to our skin. Rata Probiotics use a special Milk Peptide to help with skin renewal and act as a healthy skin barrier. To really supercharge our formulations we pack in Omega 3 & 6 and Antioxidants - all sourced from plants and fruits for pure, natural nourishment.
Made with the purest Konjac and mineral extracts, Konjac Sponges deeply cleanse, gently exfoliate and detoxify skin for a radiant complexion. Gentle enough for sensitive skin and babies, Nudi Point Konjac Sponges are the ultimate in natural, effective skin care.

100% Natural | Packed with minerals and antioxidants | Non-toxic | Earth Friendly | Naturally sustainable | Colourant Free | Additive Free | 100% Biodegradable
Hair care for coloured hair from Paul Mitchell, restore your hair with high quality treatment, shampoo and conditioner. Paul Mitchell colour protect shampoo and conditioner provides gentle care for colour treated hair. It helps to extend the life of the colour by protecting it from environmental damages.The Paul Mitchell Colour Protect Treatment is the perfect follow up, formulated to help repair your hair and extend the life of colour treated hair. It even contains a sun protector to ensure against colour fade.
Smoothing anti-frizz oil for dry and difficult-to-manage hair. It's created from the stems of deep-sea plants in order to deeply nourish your hair! Protects your hair from the harmful effects of the sun and prevents damage when using styling heat. 100ml.
Enriched with Collagen, Argan Oil, Lanolin, Co-enzyme-10 and Magnolia Bark Extract - used for centuries in Chinese medicine thanks to its anti-inflammatory properties and good source of anti-oxidants, this Night forumula Cream is an advanced, highly concentrated moisturiser that provides intense skin hydration. The enhanced blend of natural ingredients effectively nourishes and revitalises the skin, leaving it soft and vibrant. This product contains no colour additives, making it hypoallergenic and suitable for all skin types, even the most sensitive.  
Lanocrème Firming Eye Serum is a highly concentrated yet light serum. Infused with anti-inflammatory and antioxidant rich Licorice Root Extract, soothing Witch Hazel Water and regenerating Co-enzyme 10. Enriched with Argan oil - a natural oil produced from the kernels of the Argan tree. Rich in nutrients including fatty acids for intense hydration. This product contains no colour additives, making it hypoallergenic and suitable for all skin types, even the most sensitive.
Meet the Cherry Almond Body Scrub; A beautifully sweet new scent to the Grounded coffee scrub collection to give you flawless, soft and smooth skin everyday. Filled with Vitamins, Minerals and Anti-oxidants it will take your skin from Rough to Buff. Made with a blend of skin loving ingredients such as Robusta Coffee, Coconut Oil, Sweet Almond Oil, Sugar, Salt and Vitamin E to Scrub away dry skin, Moisturise, Cleanse, Tone, Tighten and Brighten Skin - all done in a 5-10 minute shower.
No Microbead's, Suphate's, Fillers, Nasty Chemicals, Dea's, DEET or Parabens.

Ps - Some of their other customers say these scrubs also help with common skin conditions such as Eczema, Psoriasis, Cellulite, Stretch Marks, Acne and Scarring.

This beautiful facial scrub is packed with the vitamins, mineral and anti-oxidants you need for gorgeous, clear and healthy skin. Contain extra fine coffee powder ensuring it is gentle when scrubbing your sweet cheeks. Enriching skin with extra virgin Coconut Oil, Vitamin E and Sweet Almond Oil so you're left soft and very hydrated. Perfect for scrubbing away dry, dead and flaky skin so you can be assured your complexion is smooth at all times. Containing Witch Hazel, Tea Tree and Lemon Oil to clean pores, remove excess oil, dry out pimples and treat acne with my antibacterial properties.
100% Natural
No Parabens. No Fillers and No Nasties
Cruelty FREE and Vegan
Rata & Co. New Zealand Naturals Rosehip Plus Anti-Oxidants Serum is a premium skincare serum infused with the natural goodness of Rosehip Oil and Açaí and Cranberry Fruits for gentle moisturization throughout the day. Ingredient Benefits: Rosehip Oil is high in omega-3 & 6 fatty acids which are beneficial for dry skin, Rosehip Oil is also known to improve the appearance of scars. Açaí Fruit Oil is easily absorbed by the skin, Acai Berry "Super Food" oil is a rich skin nutrient that protects and conditions the skin with the added benefit of vitamins C and E. Cranberry Seed Oil softens and moisturizes, whilst protecting the skin from the elements. High in Anti-Oxidants, an intensive, yet gentle natural moisturizer.
Nature's botox in a tube! Our iconic Bee Venom Face Crème tightens and plumps the skin for visibly lifted and rejuvenated skin. Apply to cleansed face avoiding the eye area - for best results use 3 times a week.
KEY INGREDIENTS: Bee Venom, Organic Rosehip Oil, Active Manuka Honey, Collagen, Argan Oil
Hydrating
Plumps and tightens
Softens lines
Not recommended for sensitive skin
Non-comedogenic (won't block pores)
Organic rosehip antioxidants will help reduce the effect of ageing and aloe-vera offers a boost of moisture and hydration that tired skin loves. By Nature is based in Christchurch and manufacture their high-quality skincare in house, this gives them complete control over the quality of ingredients put into each product, and this Day Crème is one of our all time most popular products. Having featured in our subscription boxes, we have had so many requests for more of this paraben free face lotion, it is a staple in our favourite one off boxes and for many women around New Zealand.
"An all year around essential, and the second Linden Leaves product in the December box is this cute lip balm that contains organic tea, manuka honey and sweet almond oil. I've always been a big fan of Linden Leaves, with the ingredients that they use and their classy packaging for all of their products. This moisturising and healing lip balm is one of my favourite items in this month's box as lip balm is a crucial handbag essential for me. " SubscriptionFixation
A nourishing lip treatment enriched with manuka honey and sweet almond oil to help nourish and repair damaged lips. This soothing lip balm is formulated with natural antioxidants to help protect the lips from drying environmental conditions, and reduce the visible signs of ageing.
Scrub your feet smooth with this natural New Zealand made foot scrub enriched Aloe Vera, and vitamins A, C & E. Follow up with the By Nature Foot Balm for the perfect foot care combo.
Clinical studies and testing on Rhassoul Clay found that it can increase skin elasticity, even skin tone, reduce blemishes and blackheads, and reduce skin dryness or flakiness. Rhassoul clay boasts a high negative charge and it can help draw out blackheads and other impurities from skin and this beautiful Rhassoul Clay Face Mask Powder from Skye Candle and Body Care can be mixed with yogurt or water to create a paste mask over and over. For 15 minutes of peace and quiet, and beautiful clear skin, this treat is a natural and effective way to flush out the toxins and give your complexion the care and attention it needs to look its best.
Sugar Scrub cubes will reinvigorate each and every shower with a burst of naturally sweet scents, and an all over exfoliation. As you draw away dry skin cells to reveal fresh, clean skin, the coconut oil will help to hydrate and balance your body with powerful natural antioxidants. Aiding to reduce the visibility of stretch marks and skin imperfections, this Sugar Scrub is a beautiful New Zealand made product that is made from 100% natural ingredients.
Exfoliate your body and remove dead skin cells while rejuvenating your pores with this natural sugar scrub. Little Olive Tree Scrubs contain a generous combination of natural oils, delivering a smooth moisturising experience after rinsing the coffee granules off. This product is also good for cellulite, the caffeine and antioxidants in coffee, in conjunction with a massage motion, have shown to have positive effects on cellulite.
After finding this amazing natural brand on Instagram, it is a pleasure to be able to include the Facial Oil in our Mothers Day boxes. A nutrient rich blend of organic botanicals with an abundance of powerful antioxidants and omega rich oils created to rejuvenate, repair, protect and soften your skin. Ideal for use following your Oxygen Skincare Purifying Honey Masque, this beautiful oil is genuinely natural made from only the absolute highest quality ingredients and will improve the appearance of ageing skin. Once we hit 30, the natural oils in our skin are more affected by our diet, and lifestyle, this oil will help balance your skin to leave you looking youthful and glowing.
This smoothing Microdermabrasion cream removes dead skin cells while the vitamins and botanicals nourish and replenish the brand new skin underneath. Your skin will be left feeling baby soft and rejuvenated indeed! An amazing treatment for uneven skin tone, fine lines and wrinkles, scars, stretch marks, pores and spots. The best part, it is completely natural, and ground crystals are used to gently resurface your skin, made in New Zealand this product is quickly becoming more popular as one of the most effective at home microdermabrasion treatments available on the market.